Beaches of the Gran Bahia Principe Cayacoa
Playa Los Cocos (220 m) and Playa Loma Escondida (280 m) are two small beaches of the Hotel Gran Bahia Principe Cayacoa. Playa Los Cocos is the largest with more services. These are golden sand beaches, pleasant for walking. To reach Playa Los Cocos, they built a massive elevator to reach the beach from the main pool of the hotel. Playa Loma Escondida is used primarily for customers of the villas. These are located at the southern end of the resort.
We have experienced snorkeling in Playa El Portillo, Cayo Levantado, as well as Gran Bahia Principe Cayacoa. The best condition (fish and the quality of the seabed) is in Cayacoa. Note the beautiful and colorful Sea Plumes. If you choose your trip according to the snorkeling accessible by the beach, well, the Gran Bahia Principe Cayacoa is the best choice.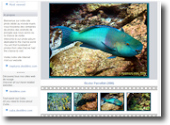 The underwater lovers will enjoy browsing through our website dedicated to the marine world, neptune.destilino.com. For those who wish to be informed of our updates, we have a mailing list you can subscribe.
We recently added a section of our best « coup de coeur » photos with some fine specimens as well as our photos of Samaná.
If you want to visit the beautiful public beach of Cayo Levantado (7 km) from the hotel Gran Bahia Principe Cayacoa, it is possible to take a boat transfer for 25 USD (4 hrs). Ask employees at the Nautical center.

In the eastern sector of Playa Los Cocos, it is possible to walk to Cayo Vigia, which is connected to the mainland by three bridges. The longest is 500 meters. This island was once home to several services. The access to bridge is public, do not be surprised to see vendors of crafts and colorful paintings, typical in Dominican Republic. You will find the location excellent for taking pictures of the Bay of Samaná and the hotel beach of the Gran Bahia Principe Cayacoa.

Click HERE to see our photos of the beaches of the Gran Bahia Principe Cayacoa