Informations about Samana and Dominican Republic
The Dominican Republic occupies two thirds of the territory of the island « Hispaniola », the other third is occupied by the Republic of Haiti. Hispaniola is a word derived from « La Espanola » which was the original name given by Columbus to the island, he discovered Dec. 5th, 1492. This was the first land occupied by the Spanish in the New World.
The complex history of the Dominican Republic began with its first inhabitants the Taino. The Arawak tribe of Stone Age estimated at 250,000 souls to the arrival of Christopher Columbus December 5th, 1492, developed a sophisticated social order, including daily religious ceremonies, festivals and seasonal team sports. They lived by hunting and fishing, agriculture, including tobacco mystified the first European conquerors, before they gain followers.
Dramatic new evidence about how these people were exterminated, emerge during archaeological excavations around the islands and interesting discoveries made in the National Park is near La Romana.
*****
The popular tourist areas of the Dominican Republic are ...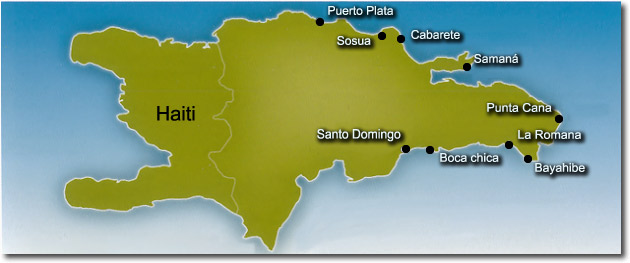 | | | |
| --- | --- | --- |
| Santo Domingo | Punta Cana | Puerto Plata |
| Sosua | Cabarete | Samana |
| Boca Chica | La Romana | Santiago |
| Bayahibe | | |
*****
Population:

With a population of 9,400,000 inhabitants, the country is divided into 26 provinces and one district

Capital:

Santo Domingo is the capital with more than 3,000,000 inhabitants. It is the largest city in the country

Language:

Spanish is the official language

Religion:

The predominant religion is Catholicism, although virtually all religions are represented

Politics:

The country has a democratic government with elections every four years

Climate:

Temperature can vary between 24° and 30° C. The hottest months are July and August and the coolest December and January. It is almost always sunny and the beach is open all year

Economy:

Main industry is tourism, followed by agriculture and, of course, rum production. Other industries: gold, silver, nickel, copper and bauxite mining

Tip:

In all hotels, it is acceptable to give tips, but the amount is entirely at the discretion of customers. In independent restaurants, the law requires 8% tax (ITBIS) and often 10% service charge is added to the bill. If you really appreciate the service, it is customary to add an additional amount

Sports:

Baseball is the national sport. Boxing, wrestling, basketball, cockfights and horse races are very popular among Dominicans

Telephone and fax :

As in all foreign countries, it is very expensive to make phone calls or send faxes from your hotel. If you plan to use these services, you must leave an imprint of your credit card upon arrival. Some hotels charge a service fee for receiving a fax.

The regular fee for calls to Canada is $20 RD per minute at your hotel. You can also buy calling cards. These cards can be used with public telephones.

DIRECT CANADA: 1-800-333-0111 (charges apply)

Transportation:

Bus
The two bus companies in Dominican Republic are Metro Tours and Caribe Tours. These are modern buses, safe, comfortable, air conditioned and equipped with toilets. Buses pass by the large cities.

Local bus
Guagua (Ouaoua) is the name, we give to these vans that can hold 20 people or more. They are inexpensive and make frequent stops to pick up or drop off passengers on the roadside. You can easily identify with the « Cobrador » (coin collector) who stands outside the bus.

Taxi
This mode of transportation is quite expensive. They are safe and fast. You can haggle over the price with the taxi driver, but it is impossible to do it with private taxi drivers, which are always located in your hotel.

Car rental
Renting a car will prove very costly. The roads are generally in poor condition, with the exception of the main roads. The lack of adequate lighting at night, almost non-existent signage, locks and motorcycles could make the experience more painful.

Water:

Do not drink tap water. Most hotels provide bottled water, and you can also buy bottles in the shops. Do not worry, the water you are served in bars, and restaurants is purified. Ice cubes are also made of purified water.

Doctor:

Most hotels offer paid medical services. Doctors make house calls (24 hours service). Contact the lobby for more information.

Safety deposit box:

In most cases this is a paying service, and hotels will accept no responsibility for valuables left out of the box. The fare is $4 per day at all the Gran Bahia Principe hotels.

Cuisine:

Dominican drinks
Rum is the most popular alcoholic beverage, and is a typical product of the Dominican Republic. Molasses extracted from sugar cane syrup is the basis for the manufacture of rum (80% of the production of sugarcane is used for this purpose).

There are three types of rum ...
. White rum (Dry, light, perfect for cocktails)
. Dark rum (strong taste)
. Añejos (rum kept for several years in wooden casks, which gives it a distinctive taste).

There are four kinds of beer in the Dominican Republic: Quisqueya, Presidente, Bohemia and Ambar). You can also find the Heineken, which is brewed on the island.

Comedores: Small simple meals, Dominicans generally go there for lunch.
Paradas: Small restaurants along major roads.
Cafeteria: Sort of snack that sells fruit juice, beer, coffee, soft drinks and sandwiches.
Pica Pollo: Dominican variant of the « Kentucky Fried Chicken ».
Vendedoras: Mobile snack, bursting with all kinds of food and drink, almost always located near the beach.
Colmados: Kiosks offering snacks, sandwiches, fruit juices, rum and soft drinks. Often there are benches to sit and people gather to play dominoes.

Sun:

The sun, despite its benefits, can also cause minor problems. Always apply sunscreen properly to protect you from harmful UV rays. Disorders may occur as a result of prolonged exposure to sunlight (dizziness, vomiting, fever, etc.). You must protect yourself, especially the first few days and avoid prolonged sun exposure by wearing a hat and sunglasses. The sunscreen factor 30 should be used during your excursions and water sports.

Currency:

The currency is the Dominican Peso. The one located at the entrance of the Gran Bahia Principe had a rate of 30 to 1 (USD). Tips can be left in USD or DOP. For excursions, you pay in cash (USD) or credit card.

Click HERE to know the current exchange rate of Dominican Pesos in U.S. Dollar.

In most hotels, you will find an exchange office where you can exchange money at the lobby. The hotel rates are not significantly different from those of the city. The U.S. dollar is accepted everywhere.

The ATM cards accepted are Interac and PLUS. Remember that you can only withdraw money in local currency.

Be sure to tell the bank that issued your credit card, you'll be in Dominican Republic BEFORE leaving. This will avoid many problems!

Time Zone :

The Dominican Republic is located in the GMT -4. GMT stands for Greenwich Mean Time.

The live date and time in Santo Domingo ...

Electricity:

110 Volts 60 cycles.
Click HERE to see a photo of the electrical outlets in the rooms of the Gran Bahia Principe hotels.

Required Documents:

The passport is not mandatory in the Dominican Republic (birth Vital with two cards with photo is required if you do not have a passport).

Security at the airport in Samaná is as strict as our airports. You must remove your shoes, no liquids over 100ml, no belt. You should always bring a pair of socks, because it is really « icky » to walk barefoot all to pass the metal detector. Yeurk!

You must fill out the Direccion General de Migracion before passing the customs on arrival. It is not allowed to take photos BEFORE you cross the border.


Entry tax in the country:

$ 10 USD per person. You receive a coupon aboard the plane going to the Dominican Republic. However, many tour operators included this expense while purchasing your travel package.

Health:

There is no vaccine mandatory for entry. However, it is still recommended to consult a clinic for travelers. Twinrix must be considered if you travel frequently outside the country, it protects against hepatitis A and B.

Some people choose to take the drug against malaria (chloroquine), because there was an outbreak (few recorded cases) few years ago after a tropical storm that left standing water in the region of Punta Cana.

The state of public health is considered very good by the World Health Organization and other agencies.

Post:

You can buy stamps in the souvenir shops. Your postcards can take up to three weeks to reach the destination. Usually you found a place to post them in the lobby.

Shopping and souvenirs:

Larimar
Commonly known as the Turquoise Dominican. The Dominican Republic is the only country where you can find the Larimar. Light blue with white and brown shades. This stone was little known before 1974. A member of the Peace Corps in bringing several pounds to Miguel Mendez. a dealer in precious stones Dominican. The latter called this stone « Lari » named after his daughter Larissa and « Mar », meaning sea in spanish.

Amber
It is a resin (from a dead tree) fossilized over millions of years. In prehistoric times, insects or small animals, small leaves or flowers are mired in the substance. Covered with a layer of earth, the resin was transformed into amber. Because of rain, the resin flowed into the rivers and subsequently to the sea coast has disappeared, but remained amber. The largest piece of amber was discovered in 1979 near Sabana del Mar. It weighs eight kg. There are also blue amber, but it is very expensive because of its rarity.

Dolls
You can buy these faceless ceramic dolls in all stores. These faceless women wear the typical clothes. It is only since 1981 that these dolls are sold as souvenirs. A German decided to make them. They generally come from Moca and Santiago.

Black coral
Coral is a living plant on the seabed, tens of meters deep. It grows only in areas where certain types of algae and the water must have a special rate of salinity. It is for this reason that there is no coral in the rivers. There are two types of coral: red and black. Black coral is a species that grows very slowly. Sometimes it takes a hundred years to grow to two centimeters. It is important to know that despite the fact that black coral is still available in the Dominican Republic, Canadian laws prohibit the entry into Canada.

Carved wood
You will find wooden objects carved or painted not in all stores. Mahogany is also used extensively.

Paintings
You will find almost everywhere Haitian paintings (not Dominican). They are easily recognized colors and patterns primitive. If you do buy paintings removed from their frames and rolled up carrying.

Braids
Everywhere, especially at the beach, women will offer to braid your hair with colored beads. They usually have a book of photos to show you the possibilities. It is obviously possible to do only few braids or the whole head.

Other souvenirs
The objects in rush and pottery as well as the instruments of samba are part of conventional souvenirs. And of course rum (the best known brand is Brugal), coffee, pure vanilla (liquid), cocoa and Dominican cigars.

National parks:

Parque Nacional Monte Christi
Parque Nacional Armando Bernudez
Parque Nacional José del Carmen Ramirez
Parque Nacional Isla Cabritos
Parque Nacional Jaragua
Parque Nacional Sierra de Bahoruco
Parque Nacional Los Haitises
Parque Nacional del Este
Parque Nacional Submarino
*****
Source: Books of TMR, VAT and VAC at the hotels Gran Bahia Principe El Portillo and Cayacoa and our personal assessments.